I'm going to start this off by saying that I don't believe Mitch Marner will be traded this offseason. In fact, I think he ends up having a long career as a Toronto Maple Leaf. I'd like to follow that up by saying if he figures out how to be successful in the playoffs, nothing the team can get in return will be as valuable as a determined Marner. Post-trade, nothing short of a Stanley Cup win would be acceptable if you ship out a player like #16.
However, due to the flat cap, stagnent Leafs roster, poor playoff performance and this:
As well as this: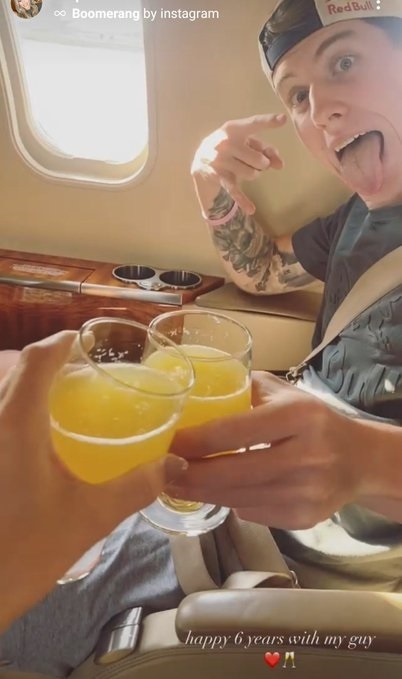 I understand the general consensus that he has to go.
It's just good to know that he is completely over the teams 1st round loss to the Montreal Canadiens and is getting ready for another season that will enevitably end with the words "this sucks."
This guy is a PR nightmare. So talk trade we must and besides, all sites could use a little click bait, which brings us to the point of this article.
As I comb through possible destinations for the talented winger, one team jumps out at me as a perfect fit, the Los Angeles Kings.
The reasons are plentiful but include the cap space required to fit Marner on their roster, a possible need for a winger of his ilk, the necessary picks, prospects and roster players to pay the cost of what a player of Marner's calibre would demand, a history of trades between the two teams and the fact that the Kings have some aging stars (Anze Kopitar, Drew Doughty) that may want to see the team bridge the gap between rebuild and contender a little quicker than they did the last time they rebuilt the roster.
Let's begin with looking at what the Kings have that might be enticing for the Leafs.
Over the past 4 seasons the Kings have selected 11 players in the first two rounds of the NHL Entry Draft. 5 of those players are 1st round selections and 2 are top 5 selections (Alex Turcotte, Quinton Byfield). They also hold the 8th overall choice in this years draft, which, surprisingly enough, may not be that appealing to the Leafs unless they can flip it for immediate help at the draft. Lets not forget that the Leafs aren't rebuilding, the reason they would look to trade Mitch is to reshape the roster in order to better their chances at advancing in the playoffs and, ultimately, to win a Stanley Cup. An 8th overall selection that doesn't peak for another 5 years won't help them do that in short order.
Instead, I would assume that the team would be more interested in one of the high end centres that the Kings have managed to draft, as well as a roster player or two (and possibly even a pick, depending on how highly the Kings value Marner). If they fail to acquire a top end prospect then, and only then, would you chase the 8th overall selection.
While it may be a little much to ask for the former 2nd overall selection from the 2020 NHL Draft, Quinton Byfield, it might not be too much to ask for Alex Turcotte, who was selected 5th overall in 2019. If the Kings are completely unwilling to move either player, then the Leafs could ask about one of the (many) other centre prospects that the Kings have. They include Jaret Anderson-Dolan, Rasmus Kupari, Akil Thomas and Gabriel Valardi. The thing to remember here is that the price of return changes with which prospect the Kings would be willing to give up. If, for example, they were willing to part with Turcotte, then asking for a 1st round selection as well could prove to be a deal breaker. However, if the Kings are willing to move on from Valardi, then asking for a 1st round selection as well as the player would be expected.
Aside from prospects and picks, the Kings have some players on their roster that could move in a trade to help both teams. The best example of this could be Jonathan Quick. The Leafs are in need of a veteran backup goaltender to play behind Jack Campbell, and Quick could be that player. He could be a great fit on the Leafs roster, while the only real holdup may be his 5.8M cap hit. In order to include Quick in the deal the Kings may have to retain salary, but I feel as if that's not out of the question if the Kings are receiving a high end piece like Marner.
Lastly, with the expected departure of Wayne Simmonds, the Leafs are once again in desperate need of a little sandpaper. I would suggest that they ask for Brendan Lemieux to be part of this trade. There are a few things about Lemieux that I like, but the coles notes are that his foot speed is better than what we've seen from other players that have filled his role, such as Matt Martin and Wayne Simmonds. He can stand up to some of the leagues biggest physical threats, with his fight card containing names such as Josh Manson, Nick Ritchie and Mark Borowiecki and, while his offensive numbers won't jump off the page, he was on pace for around 25pts during the 2019/20 season and nearly 20pts over the past year, which means he isn't the offensive black hole compared to players such as Matt Martin (sorry Matty) and Kyle Clifford.
Here comes the fun part!!! This is where I make a wild trade proposal and get laughed at for it!!! I always love this part because my feelings aren't important.
To Los Angeles: Mitch Marner, Ilya Mikheyev
To Toronto: Jonathan Quick (50% retained), Brendan Lemieux, Gabriel Valardi, Lias Andersson (RFA negotiating rights), 1st round pick (2021, #8 overall)
Included in this trade would be about 7.2M in salary cap space. The team could spend that on a free agent or use it to re-sign Zach Hyman. They'd be spending 2.9M in cap space on a backup goaltender, which isn't unrealistic if you expect a decent 1B goalie, 1.5M on a gritty winger and would have a high potential prospect, Gabriel Valardi, playing 3C on his ELC. They would also acquire a big trade chip at the draft, which could be converted into more depth and/or firepower.
Depending on who you ask this could be a massive ask from the Kings for Marner, or a huge steal for them. That's what I love about this type of thing, it's fun to read, it's fun to make fun of the guy that dreamed it up and it's fun to dream up your own trade proposals.
What's not fun is losing to the Habs in the 1st round of the playoffs, not that you'd have guessed that by looking at the smile on Mitch Marner's face.